We do things a bit differently, and that's the way we like it!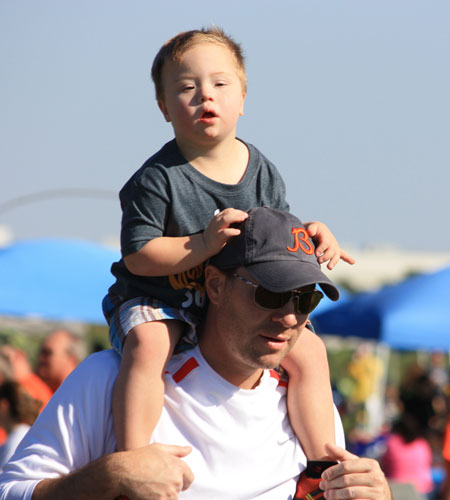 The Chicagoland Buddy Walk is run by parents and families of individuals with Down syndrome. Once a year we have a 1-mile walk to support local individuals and groups involved with making a better life in the Down syndrome world. Not only do we have a beautiful walk, we also have many other family activities to enjoy throughout the day. Please check the Walk Schedule for a list of this year's events.
The Buddy Walk® was established in 1995 by the National Down Syndrome Society to celebrate Down Syndrome Awareness Month in October and to promote acceptance and inclusion of people with Down syndrome. Today, the Buddy Walk program is supported nationally by NDSS and organized at the local level by parent support groups, schools, and other organizations and individuals.
The Buddy Walk® had another record-breaking year in 2014 with more than 315,000 participants raising nearly $13 million dollars in more than 250 events across the country and around the world.
The Buddy Walk is a one-mile walk in which anyone can participate without special training. It is an inspirational and educational event that celebrates the many abilities and accomplishments of people with Down syndrome. Whether you have Down syndrome, know someone who does, or just want to show your support, come and join a Buddy Walk in your local community!
We are a 501(c)3 filled under the name DS Support, Inc.