What does it mean to participate in a walk?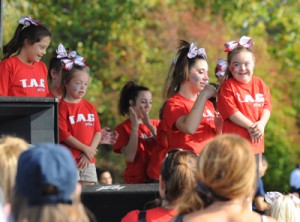 The Buddy Walk is a great way to raise awareness about Down syndrome. For each person you ask to walk with you, to donate or to just pass on the word you are brining awareness. It is a way we can bring issues to the public and our way of telling them that are children are more alike than different.
At the Chicagoland walk you will see a variety of different ways that families and friends celebrate.
Some will bring every friend, relative, teacher, therapist and well anyone else that will come along. Some just walk with their family and others walk in honor of someone. We like to leave it up to you on how you would like to celebrate the day.
Why create a team?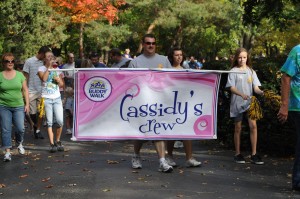 We love it when walkers create teams, make up banners, t-shirts, hats, etc. For us to see that is just such team spirit and awareness they have brought to their realtive with Down syndrome. It also shows the public just how much our kids are accepted and why they need to be by everyone!
Why raise funds?
The Chicagoland Buddy Walk is a fundraiser also. We raise funds for various Chicagoland organizations and also for NDSS. By us doing this we allow those organization focus more on their missions and to not have to worry about funding as much.
We also have fun reasons for raising funds. We like to acknowledge teams and individuals for bring awareness. We offer incentive prizes for individual and for the team who raises the most we offer them the VIP area. This is a prime spot reserved for them at the walk (with tent) and they are also honored with carrying the banner. We realize that it's usually the larger teams that raise the most so we have installed the 5 year rule. A team can only hold the VIP spot once every 5 years.