Wow, wow and oh yeah WOW!!
WOW!! After 10 years I can still say you walkers amaze me!! oh wait and can I say WOW!! again!!
We know we didn't have ideal conditions this year yet you stayed, we know there was a billion other things you could do today but yet you came an played in the rain with us. You guys are awesome!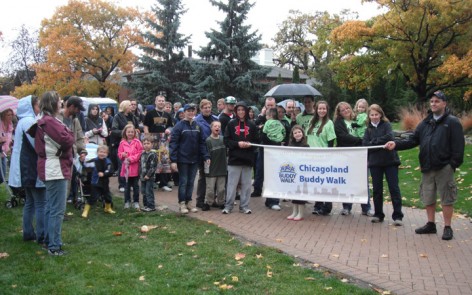 We have no idea how many actually showed up today, but the park will let us know that one soon, we do know that right now we are at about $111,000!!!!! So again you guys rock!!
The day started out just overcast and then a little rain while we set up.  At the start, right on cue the skies cleared up, unfortunately it just wasn't for as long as we hoped. We are very grateful that Lisle High School, Special Theatre and Rachel got most of her act in before the tornado warning…who knew we could get tornados in October.. oh wait yea I hate to admit but they do seem to follow my family so I guess you could say that is why I wasn't completly  shocked.
Despite all that, it was still an awesome 10th Anniversary!!
To the die hard walkers that stayed and walk, you rock… who know there were so many of us that just HAD to walk. I knew I couldn't let the 10th Anniversary go by without having the walk itself!!
To my committee, you guys totally rock even more!!! Not only did you spend countless hours volunteering your time this year and years past but you gave me this awesome plaque! They were planning to present it to me on stage but the tornado altered their plans 🙂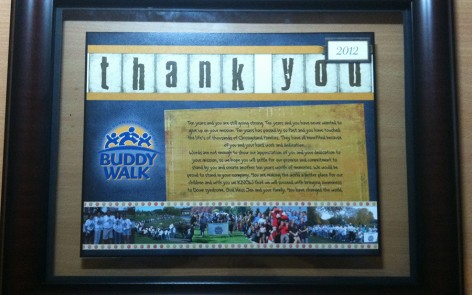 For those that do not know the  entire walk is put on by volunteers (including myself)! We work year round to plan and execute this operation. The committee and myself are made of individuals who have been directly effected with someone with Down syndrome and we feel it in our heart to make as much of a difference as we can! So thank you so much to my sis Andrea, Sandi, Wendy, Jay, Denise, Mary Lou, Monica, Steve, and Patty. But watch out now guys have it in writing that you are in it for another 10 years 😛
I also need to give a shout out to my husband Jason, thank you babe for letting our house become Buddy Walk central and all for all your support the past 10 years. I also want to thank my mom for her support and taking my kids at a moments notice this past week and never complaining once, to my inlaws Jim and  Janet, and to all my crazy family who never once said no to anything I asked them to do… even when I told them I needed 2000 hot dogs! It brings tears of joy to my eyes everytime I realize how much you do to support Brandon and individuals like him.
Please be patience with us as we start to wrap of this walk, the clean up was a bit much so it's taking just a bit to get though everything.
We hope to see everyone again next year!!!!!
Hugs to all,
♥ Jen